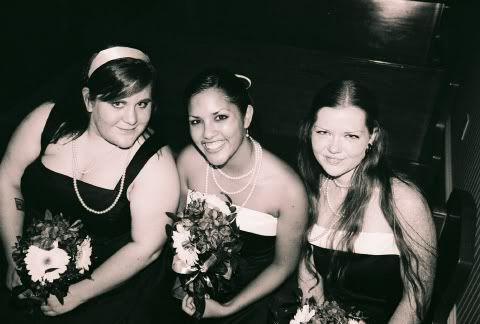 Here are some of the pictures, Francis, our photographer took.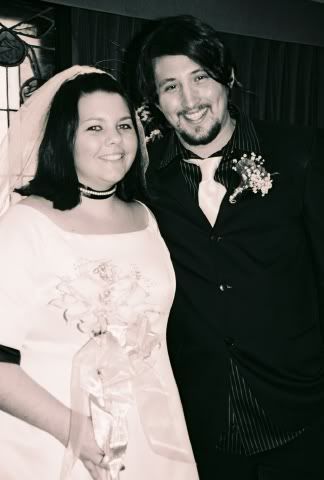 This is probably the one we will have made into a portrait size or whatever and framed.
Warning......LOTS OF PICTURES
First we shall start with the Bachlor/ette party pictures. We all went to this really skanky karakoe bar. Cristy and I got super crunk. I believe the only privledged people to receive drunk calls were Ryan and then Cristy called Brandon.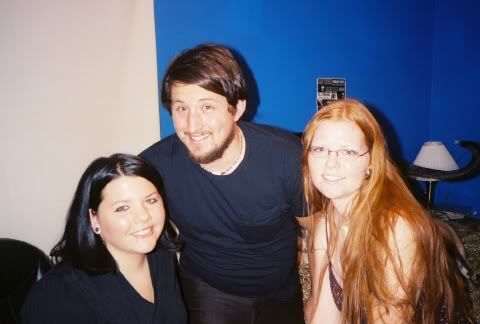 Me, Davey, and Raychul getting ready to go out.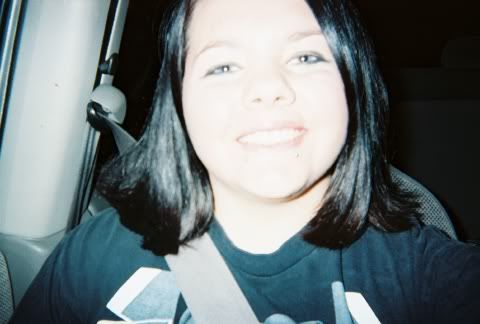 .
That is me before alcohol was added.
This is Cristy before.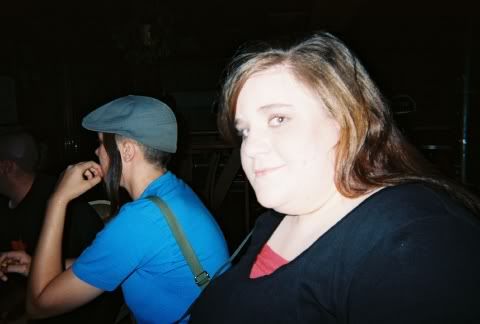 This is the after picture....
Note how much more social we look..Davey has compared me to Billy Madison when I am drunk. He says I ramble on about nothing at all...most of it not making any sense. This picture just makes me laugh.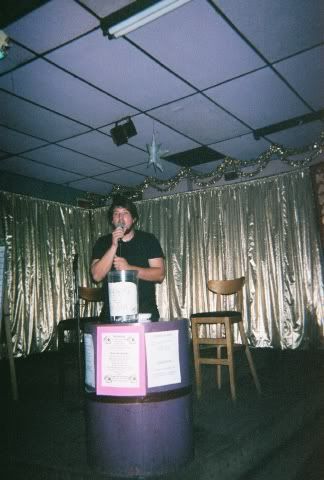 This is Davey singing A Ha's "Take On Me"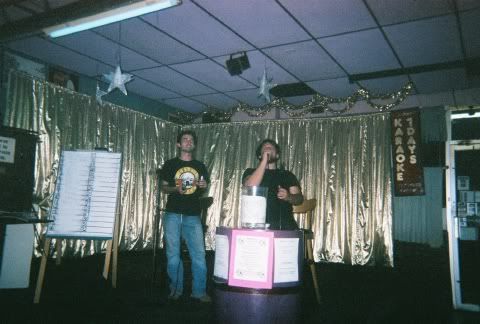 Some drunk guy wanted Davey to sing a Meatloaf song with him.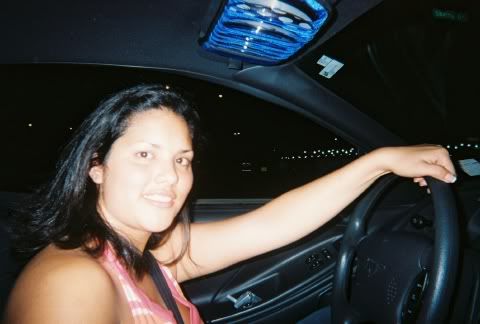 This is after we left the bar. Cristy and I rode with Natasha and all the men rode together. Natasha was our DD although we got her to take a few sips of our drinks in the bar aka the durango since we are all underage. We had all the drinks in the car and kept making trips to the car to mix our drinks.
Natasha stopped us here because Cristy and I had to peepee. Oh, Cristy threw up in the parking lot and told some random guy he should listen to more Ryan Adams. Cristy should be Ryan Adam's PR person.
The next pictures are from the "day of"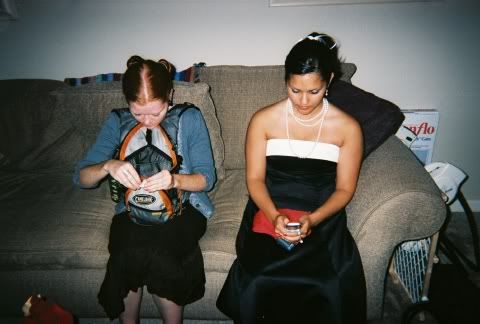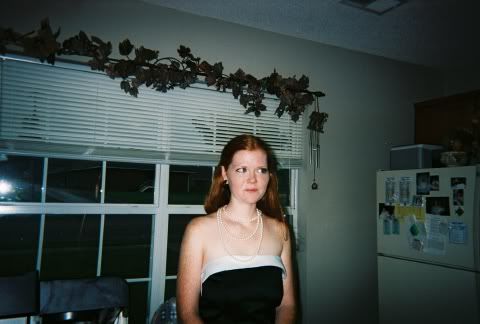 Raychul didn't wear a bra.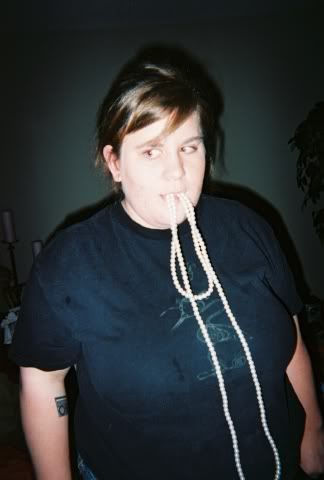 None of us recall this picture being made but everyone seems to like it. I think it's cool.
The next pictures are from the ceremony. Our ceremony was seriously like 7 minutes from start to finish. The bridesmaids and groomsmen walked out to Ozma's Utsukushii Shibuya. My dad and I walked out to this song Davey recorded where he plays the piano to the tune of Stare At the Sun by Thrice and then for the vocal parts played acoustic guitar. It sounds really pretty. We had a quote from Madeline L'Engle read to open the ceremony. We wrote our own vows..I'll post them later. As husband and wife we walked out the Postal Service's Such Great Heights...I think the song fit perfectly. Man it just so fit the moment. Here are the pictures. Oh we got married at a chapel owned by Graceland but it looks more like a small town country chapel. It was pretty and simple.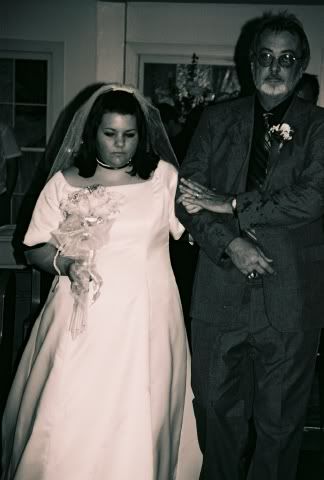 My dad walking me down the aisle.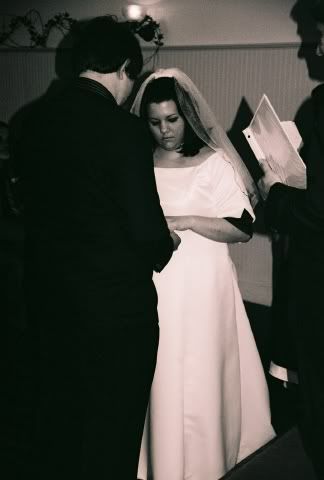 Rings
Walking out as Mr. and Mrs. David Dampier II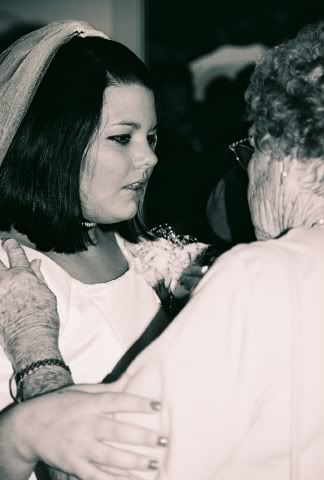 His great-grandma saying some nice things to me.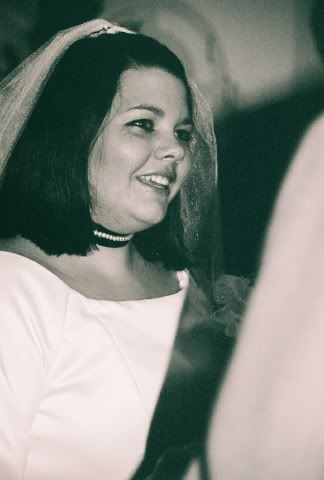 No idea who I'm talking to.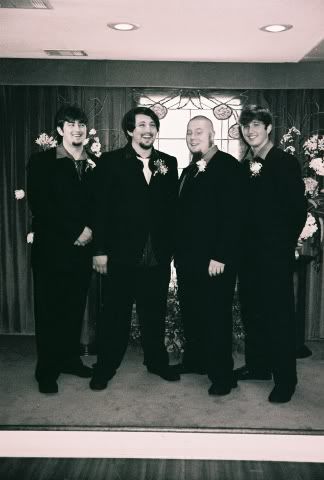 Michael-Davey-Daniel-Nick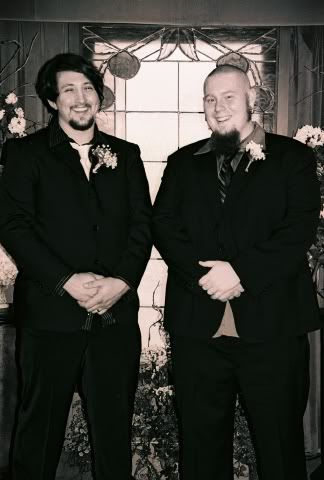 Davey-Daniel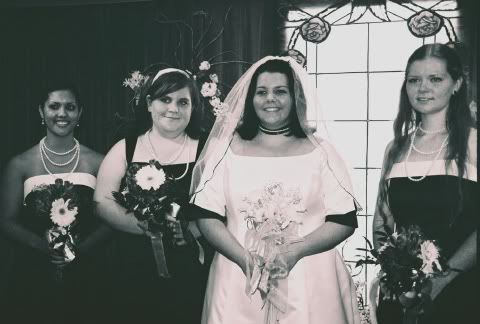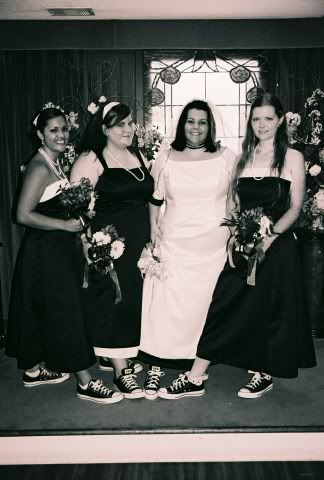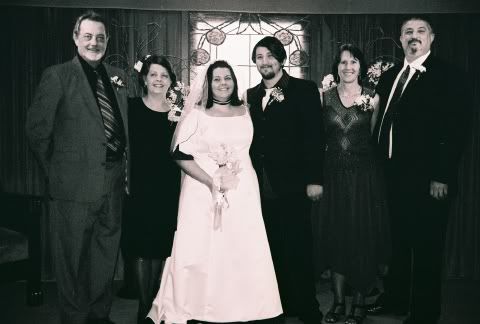 My parents-Me-Davey-his parents.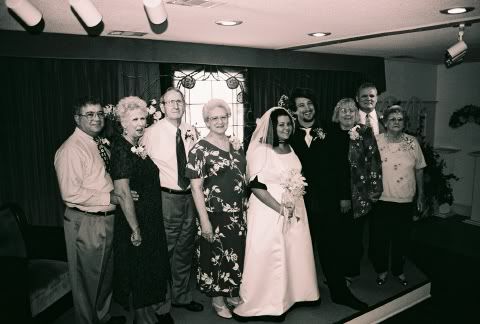 Us and all of Davey's grandparents.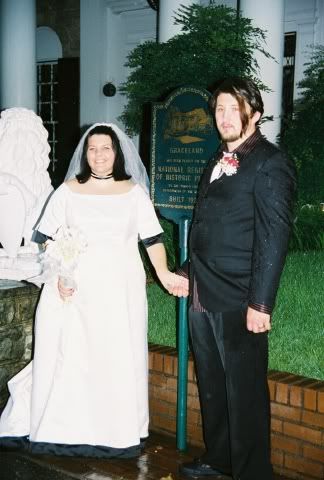 They made us take a picture in front of the Graceland sign. If you get married at the Chapel you are allowed to do pictures at the Mansion as well.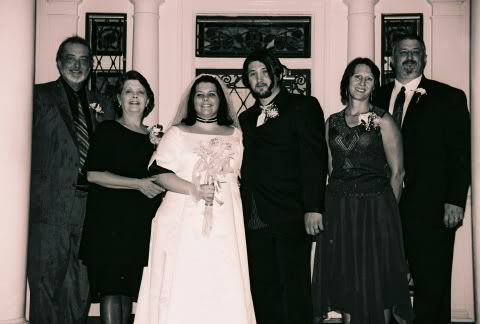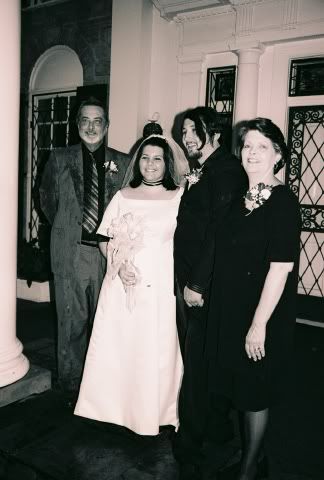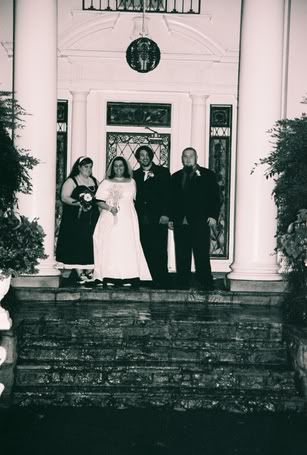 The Reception was at North Creek Golf Course in Southaven. It was really pretty, I thought. Everything went well. Food was awesome and so were the cakes. We got lots of compliments on both.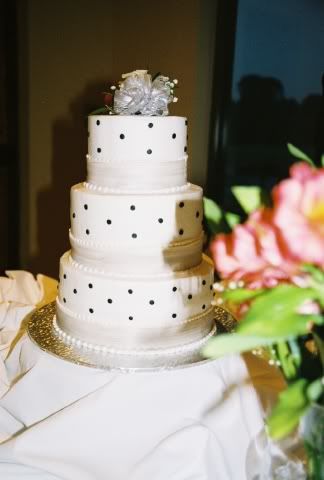 This is my cake. The flowers on top are my grandma's corsage because my mom forgot the cake topper which was a silver "D" but my Uncle Ronnie went and got it. The bottom tier was white cake with a raspberry filling, the middle tier was almond cake with cherry filling, the top tier (which we are saving for our 1st anniversary) is just almond cake with buttercreme frosting. The cake looks really small here but it was bigger than that.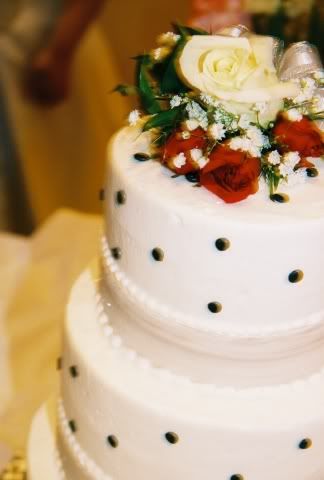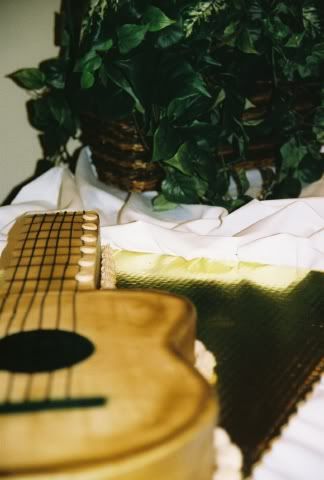 This is Davey's cake. It was spice cake with caramel-butter creme icing. Oh my goodness, it was so amazing. I don't even like cakes from bakeries but I loved our cakes. I actually am getting my birthday cake shaped like a record and spice cake with caramel-butter creme icing.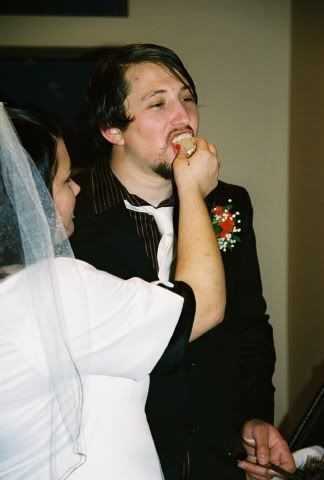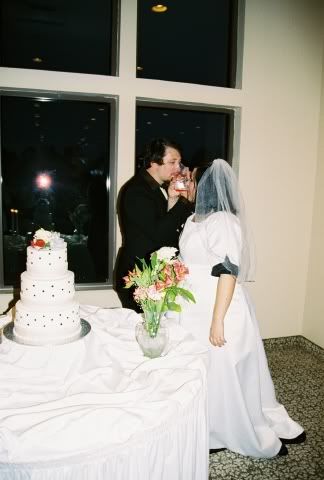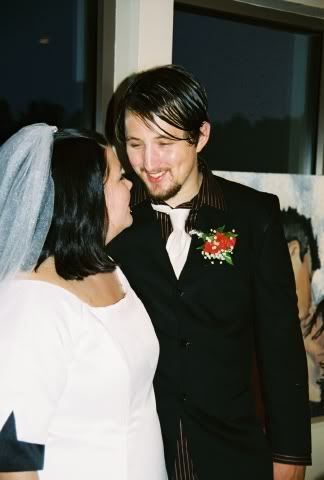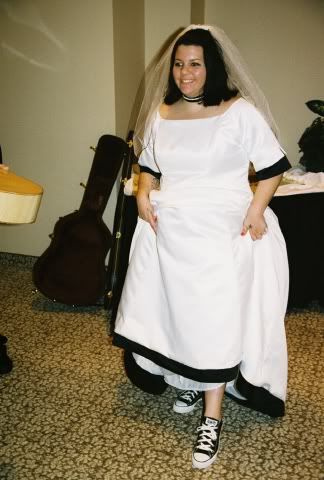 Me-Davey-my younger brother.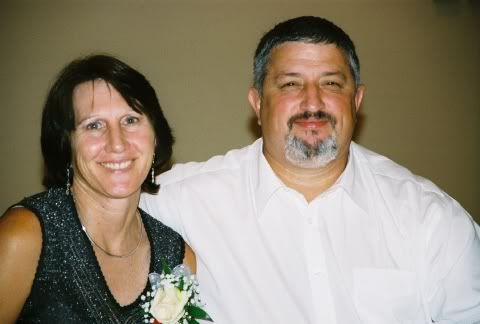 The in-laws. Mine that is.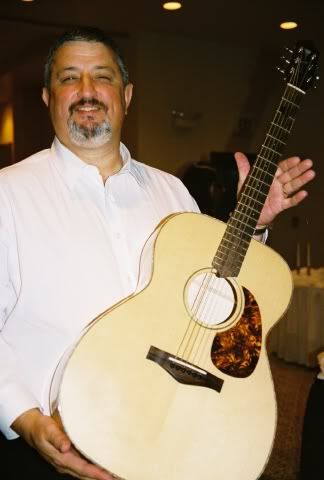 Davey's dad and Davey's first guitar he built. He was told not to accept less than $3500 for it but his parents bought it for $2,000. We displayed it next to his cake. Oh next to my cake we displayed a painting our photographer did for me as a Christmas present last year from Davey.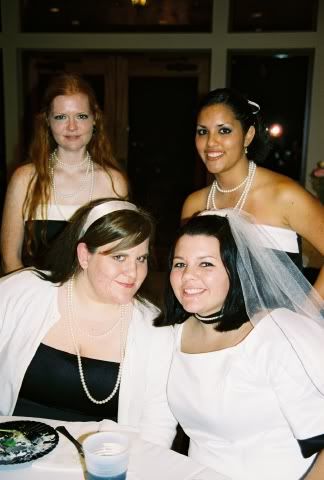 Me and the bridesmaids.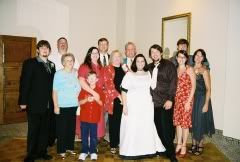 Me with him and his family.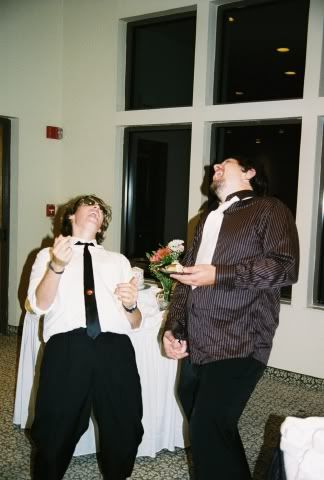 Davey and one of our friends playing air-guitar.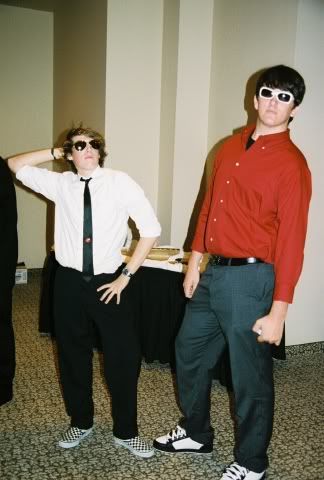 Our friends Tim and Danny our "ushers"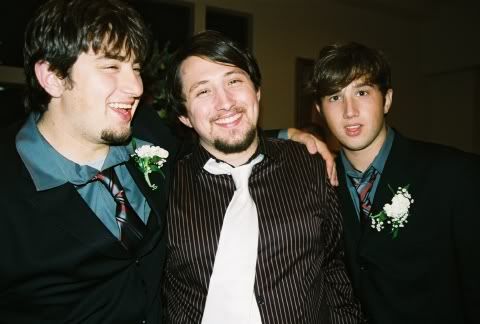 Him and his brothers. I found out his brothers and best man ordered sage shirts thinking sage was grey color..You can't tell in person but I thought it was funny because our colors were black,white, red, and silver.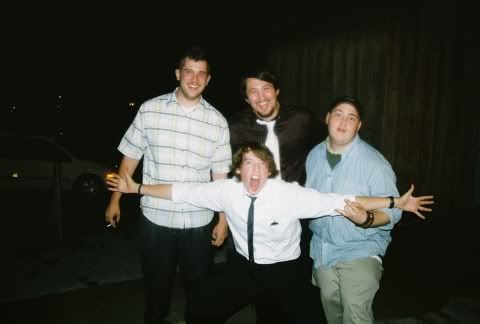 Davey and his old bandmates, the band had to break up because we moved :( they were really good.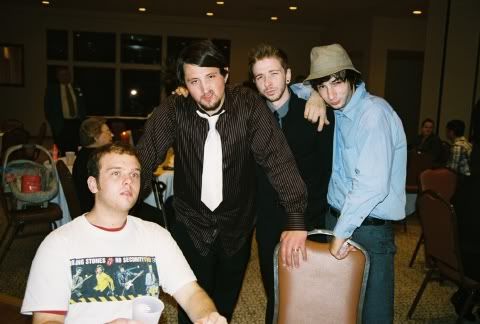 Davey with his new band..well they are more of a joke band. They have some really funny songs. They are called Cock Friction.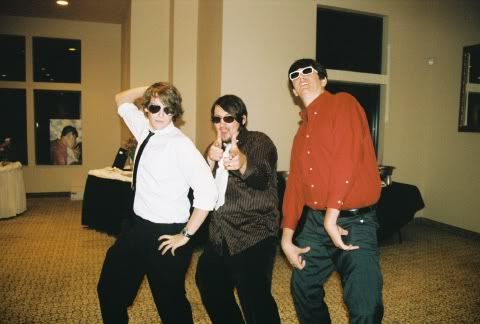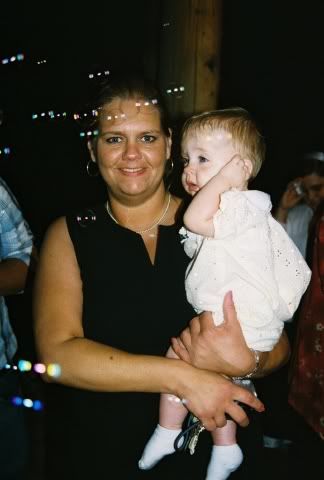 My sister and her baby..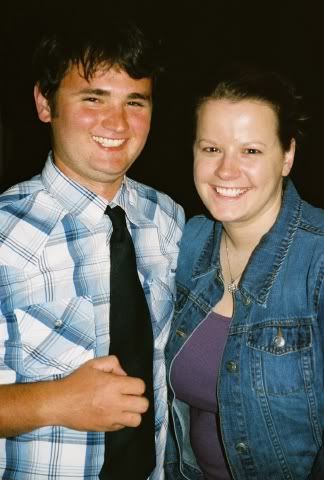 More of our friends.
Tim-Usher-Porkchop. Usher had his hair specially mohawed for our wedding.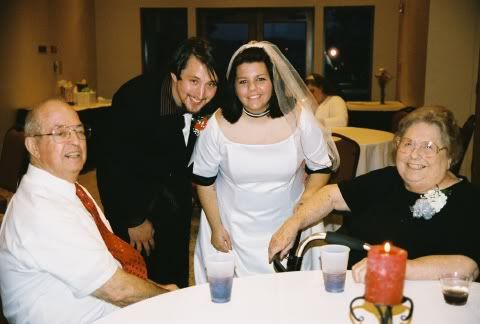 us with my grandparents.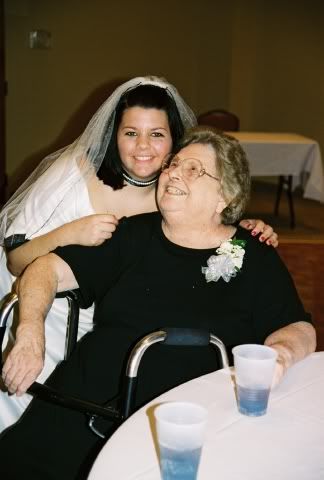 me with my grandma that I'm super close to that we thought wasn't going to live to be at my wedding.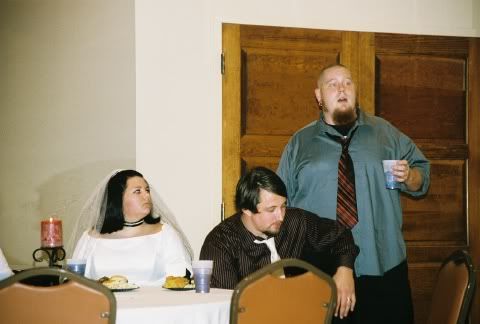 Daniel, the best man, making a speech about us and stuff.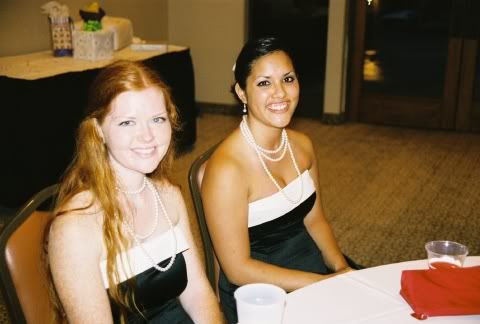 Raychul and Natasha.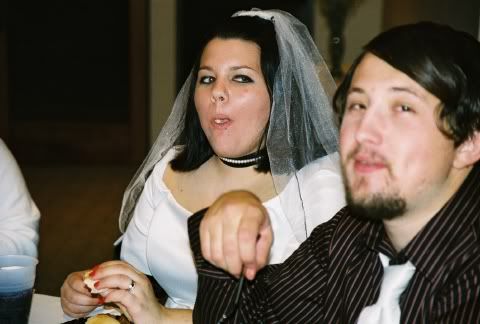 Eating.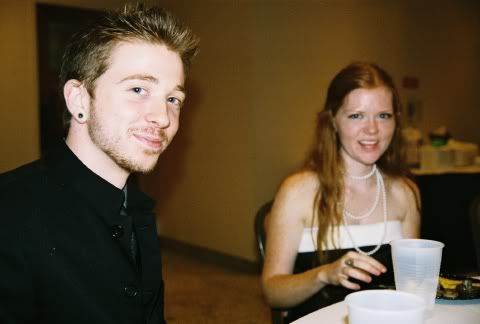 Justin panties and Raychul.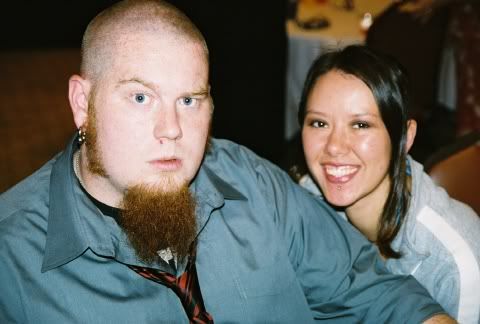 Daniel-best man- and his girlfriend Sam.. I don't think you can see but her head is shaved all but for her long thingies. I liked her. I had only met her a few days before the wedding and we actually got along. I don't like people for the most part so I thought it was neat.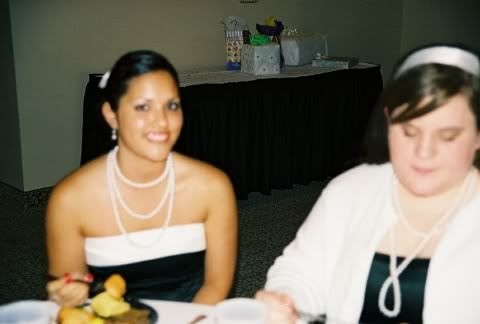 Natasha and Cristy.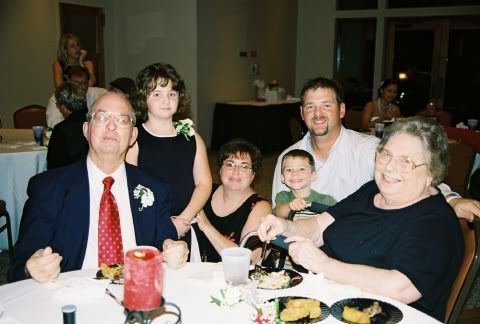 Some of my family. The little girl (she's only 6 and she's like 8 feet tall) was our bubble girl.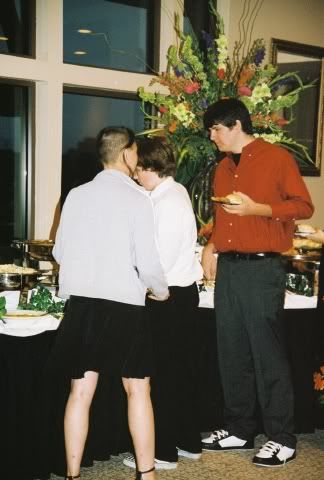 Sam, Tim, and Danny getting food.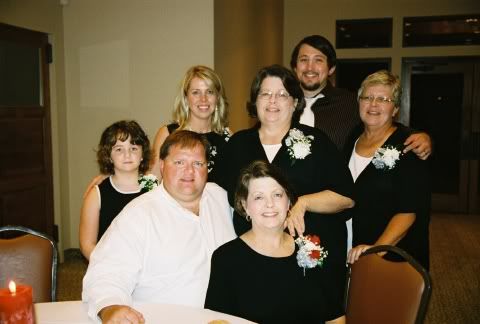 Davey with some more of my family.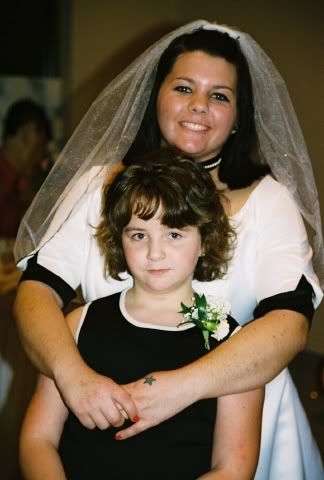 My cousin Kaitlin aka the bubble girl and me.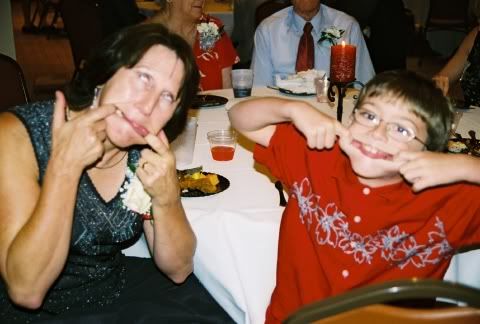 My new mother-in-law and one of his cousins.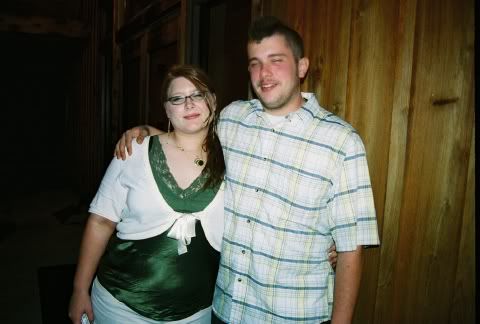 Francis, our photographer, and her man friend Usher.