Hi, I'm Sara and I'm 20 years old and I live near Memphis (actually in Southaven, MS) I found this community in I think the Mississippi community, well the post someone made to apologize for posting about this community, I never saw the original promotion post. Anyway this is my first entry. My wedding is August 6th of this year so it's coming up. On the pictures.

I have my wedding dress. Well sort of. I can pick it all up tomorrow.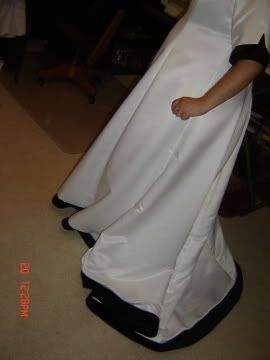 Okay. So Mary the dressmaker forgot to add the black trim on the
veil so she's doing that tonight. Also, the dress is still loose
on me so it will be tighter so you see my waist more. I really
like the dress. It's really hot though. I'll have to wear
lots of deodorant. I'll be wearing my hair like I am in the
pictures with the veil, only neater and I'll have this really antique
looking barrett thing and my black ribbon pearl choker and some black star earrings and then black bone plugs for my guaged ear holes.